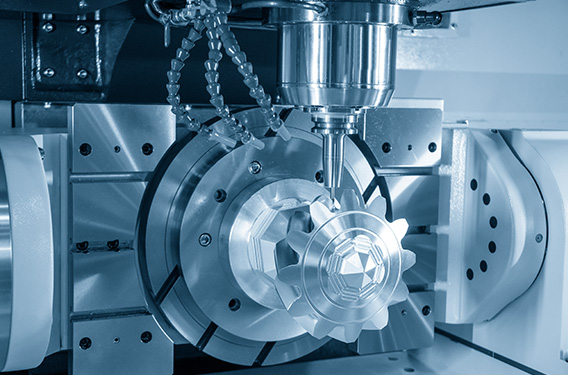 At Evridge Precision Engineering, we specialise in 5-axis machining. Based in England, we provide our services across the United Kingdom and Europe for a range of different industries. From working on nuclear power components to weapons manufacturing projects, we are highly experienced in the precision engineering sector and take pride in our ability to offer a cost-effective and efficient service whilst maintaining the highest standard of work. We carry out 5-axis machining for the manufacturing of components and products using industry-leading CNC machines. 5-axis machining comes with various benefits but mainly ensures a much more precise finish in comparison to 3 or 4 axis CNC machines. Whether you require machining services for the manufacturing of a hobby prototype or a component for a commercial project, rest assured we will provide you with an unrivalled service that is guaranteed to meet all of your requirements.
5-axis machining is an extremely specialist field. Therefore, when looking for a precision engineering company to manufacture your components, it is important that you put your trust in the hands of true professionals. At Evridge Precision Engineering, we will provide you with our wealth of expertise and manufacture your components to the highest standard. We pay excellent attention to detail to guarantee a flawless finish and will always provide great communication throughout the manufacturing of your products. If your design requires our professional opinion or input, we are always more than happy to help and provide our knowledge. Do not settle for less than the professional finish that you deserve. When working with Evridge Precision Engineering, we can guarantee you will not be disappointed with the results. Our team of highly skilled precision engineers will provide you with a 5-axis machining service that is quite simply second-to-none. We also offer a range of other CNC machining services to suit your requirements.
So, if you are looking for a precision engineering company that specialises in 5-axis machining, look no further than Evridge Precision Engineering. Get in touch to find out how we can assist you.